Independent & Assisted Living: What's the Difference?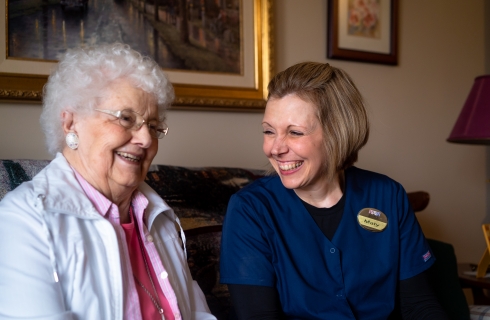 Independent & Assisted Living: What's the Difference?
Interview with Barb Scott
Written by Cory Kibler
For someone who's facing retirement and unsure about their future, we've seen that education is the best way to calm any fear of the unknown around retirement living. When someone begins looking at retirement care with Legacy, they will immediately see they have a choice in their level of care: Independent Living or Assisted Living. Let's remove any confusion by looking at what each entails:
Independent Living is just what it sounds like: Life as usual with assistance only on an as-needed basis, requested and provided at their discretion. Maybe they need a break from cooking or cleaning, or they'd like occasional help managing their medications. Each case is different, and will hinge on that unique resident's personal wishes and needs.
Meanwhile, Assisted Living makes daily life better for those who need it by offering regular services around things like ambulation, eating, bathing, medication, daily medical care, and more. It truly depends on each resident's unique situation, which is why we have in-depth conversations with new residents and their families before their care even begins. After learning what they prefer and require, we will decide together whether Independent or Assisted Living makes the most sense.
Either way, our ultimate focus is our residents' health. Naturally, this involves physical health, and we emphasize fitness and nutrition at every turn. However, physical health is inextricably intertwined with mental health, and the importance of mental health cannot be overstated. For our residents' mental health in particular, we've seen that socialization is absolutely essential.
Those facing retirement have understandable concerns: "How can I keep my mind active? How will I stay busy? How will I make new friends? How can I make each day something to look forward to?" At Legacy, we tackle these challenges head-on by ensuring genuine face-to-face interactions, even in the midst of a pandemic. Our residents enjoy small- and large-group events, authentic ongoing relationships with staff, ample educational opportunities around a variety of topics, and more, all in the name of mental stimulation and growth.
Meeting new people, trying new things, and sharing these new experiences together—these are important for all of us, and they play an acutely crucial role in helping our residents maintain a positive attitude and joyful life. At Legacy, we want residents to view each new day as a truly novel experience that is best shared with others!