Executive Chef Paula Saltzman Honored as 2021's Mission & Values Award Winner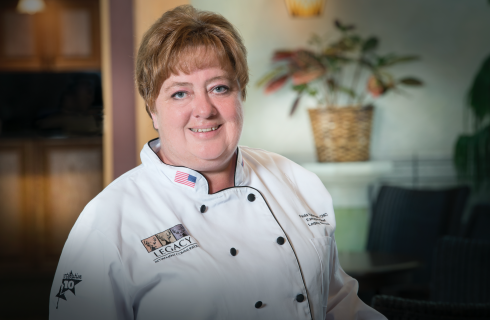 Executive Chef Paula Saltzman Honored as 2021's Mission & Values Award Winner
Each year, Legacy Retirement Communities honors an employee that gives life to the company's mission and values. This award is presented to an employee who works with great passion and enthusiasm to benefit the lives of the residents. This individual strives to always positively impact the lives of others and work with integrity. Paula is the fifth recipient of this award since its inception in 2016.
Paula has worked for the company as an executive chef at Legacy Terrace for 23 years. Legacy Terrace residents, Lou and Laura Lenzen nominated Paula to receive this award and were happy to hear that she was the recipient.
The following are excerpts from the nomation submitted by the Lenzen's:
"I had high expectations before we moved here; and they have all been surpassed. Friday nights are absolutely magical."
"Paula's most notable acts of resilience were most apparent during the pandemic days...She held up to impossible restrictions and always found a way to take care of us and keep us happy. I will never forget the celbatory glass of champagne when we got our second (dose of the COVID vaccine) shot."
"Her management skills are impeccable. thanks to her training and watchful eye, she maintains a crew that the residents love as their own family."
"She cares. She really does. Paula checks with residents often and asks their opinion. And the extraordinary thing is she listens. I just have a hard time getting used to that. To have somebody actually listen. I hope that I never take that for granted. We all need to do more of that.
"She always maintains a festive, joyful atmosphere: Love Paula Saltzman. Love her crew!"